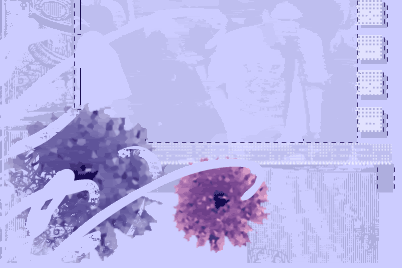 Sunday, December 12, 2004 |
19:16
I like to think myself as one but unfortunately I don't have the cash or credit to be one. Me mom, brother (Joshua) and I left for KLCC at around 10.30 am and reached about 11 am. Took us long enough even though there was no jam leading to the complex.
Anyways, I think I had a good run since I returned with a pair of darling earrings with 40% discount for Isetan card members, which I fell in love with the moment I saw it, a maroon suede jacket from Diesel (20% off and oh so soft) and a formal looking button-down and collared pinkish, purplish and white, striped top from Isetan. I'm happy. Can't remember the last time I shopped so happily like this.
For lunch, we stopped at the food court. I got myself a crepe from this joint called Robert Harris's or something like that. Inside was tuna filling with chilli sauce. Yum! I was so tempted to get a super sandwich or a delish baked potato with sour cream and bacon bits on top but I wasn't feeling that greedy today. The baked potato was just begging to be eaten!
We went back after that escapade and of all things, get stuck in this massive traffic jam leading away from KLCC. It was bumper to bumper for a full 20 minutes or more maybe. Joshua and I kept dozing off in the car while my mom kept cursing and scolding the construction people, who were doing some work on the roads, for not finishing it sooner so that we all wouldn't have to waste our time sitting in the car listening to crappy radio music when I can be at home in less than 15 minutes if not for the jam watching movies or catching up on my reading. I'm so pissed now. Jams put me in a crabby mood. I feel sorry for all those KL-ites who have to take that road everyday to work. Thank goodness for the LRT. We should've taken it today instead of drive to KL.
If I somehow ended up studying at ATC Kemayan, located along Petaling Street, I'll never, ever drive even if you wanted to pay me to. That's how horrible driving a car in KL is. Let's all support public transportation! LRT! LRT! It really amazes me how some people can tolerate all that driving.
Nothing more can be said, I suppose. I had a good shopping day off and next week I'm gonna tackle the Mont Kiara flea market and maybe Cat's Whiskers if my mom can stand up for it. I need some new pants because some of mine seem to be a little loose around the waist. I hope that means I've lost weight and not that my pants have become worn out. Ooh, two more days till the LOTR: ROTK DVD is in my hands!



*hums the Happy Tree Friends theme song*



I'm still kinda stuffed from eating that crepe thingy. Maybe I'll just skip dinner tonight or have something really light. Like waffles! But without the ice-cream.

Give your piece of mind
|
Go back to main
Presently
Replay
Duffy
Katy Perry
Bookmarked
Online Manga - Bleach Exile
Love in the Time of Cholera by Gabriel García Márquez
Idiot Box
Bleach (Fillers)
America's Next Top Model (Cycle 11)
C.S.I. (Season 9)
CSI: Miami (Season 7)
CSI: New York (Season 5)
Dexter (Season 3)
Entourage (Season 5)
Friday Night Lights (Hiatus)
Gossip Girl (Season 2)
Greek (Season 2)
Heroes (Season 3)
House (Season 5)
Lost (Hiatus)
Monk (Season 7)
Prison Break (Season 4)
The Simpsons (Season 20)
Supernatural (Season 4)
Top Chef (Returning 12/11/08)
The Tudors (Hiatus)
Chain Bloggers
Adelynn
Alex
Alwin
Aziem
Azliza
CC
Cheesie
Connect Group
Daniel
Elaine
Hui Loo
Jeannie
Kenny Sia
Kimmy
Kit Mun
Melanie
Melissa
Nicole
Pui Yen
Scott Adams
Sharon
Veronica
Personal Pages
Bake, Cook & Food Blog
Dream Blog
deviantArt
Flickr
Photobucket
Threadless
YouTube
Daily Funnies
Go Fug Yourself
Joe Loves Crappy Movies
Multiplex Comic
Perez Hilton
Pink Is The New Blog
The Skinny Website
The Superficial
Television Without Pity
Theater Hopper
Zits Comic
Previously
housework
teevee and moovies
clubbing and ice cream
another day cometh
just ranting
new template
start snacking
HerStory
December 2004
January 2005
February 2005
March 2005
April 2005
May 2005
June 2005
July 2005
August 2005
September 2005
October 2005
November 2005
December 2005
January 2006
February 2006
March 2006
April 2006
May 2006
June 2006
July 2006
August 2006
September 2006
October 2006
November 2006
December 2006
January 2007
February 2007
March 2007
April 2007
May 2007
June 2007
July 2007
August 2007
September 2007
October 2007
November 2007
December 2007
January 2008
February 2008
March 2008
April 2008
May 2008
June 2008
July 2008
August 2008
September 2008
Facebook Me
Virtual Album
Credits Due
Brushes from Surfstation
Photo from Free Foto
Photobucket



Resources
Greymatter
Movable Type

[miz graphics is not affiliated with the resources listed.]
Stalking Tools
Subscribe to
Posts [Atom]
>Online Casino
currently stalking