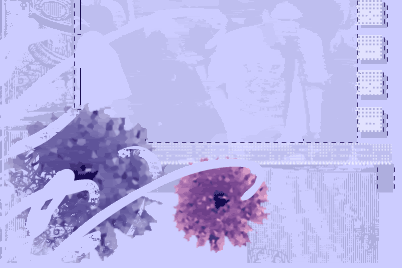 Thursday, January 13, 2005 |
02:09
The years of adolescent teenage angst and rage seem a million miles and years away now that most of my peers and me have reached this so-called height of maturity. The little insecurities and angst ridden feelings towards parents, teachers, lecturers and molly-coddling adults have not yet gone but at least have dwindled down significantly so that they don't affect one so much anymore.
I just realised that I am one month away from celebrating my 19th birthday. Not that that's such a fantastic or great number even but I really am getting, dare I say it,

old

. No more cartoon watching and laughing at nonsensical and witty comments made by animated figures in the television. Withered are the happy days of sleeping in on Sunday and Saturday mornings like a tired old horse after a hard day's work at the race track. (Okay, I'm terrible at making clever and cute analogues.) I have responsibilites now.
I'm an adult.
Well, I've been an adult for quite a while already actually, but in Japan, a girl is not considered an adult till she reaches twenty. Anyway, that's beside the point.
Reflecting back on past tween years and on those bordering years of teenage-ism where you're not a girl but not yet lady, I noticed how childish I really was back then. Whining and pining about being slightly chubby or short or too tall or wearing glasses or braces. I don't understand how our parents tolerated those damned teenage years. I think I'd've gone crazy if I were faced with one of my own. I supppose that's why they're called parents. Yucks.
Now that I'm here now, all those things seem so trivial and small and insignificant that I don't understand myself anymore about why I bothered with those things in the beginning. Everything was all overblown and preposterous and immature. Gossips and tattle tales about who's with who and who broke up with who. Thank goodness I was not one of those people who those people talked about. At least I hope I wasn't. Since you never really know, do you?
We've come a long way since those crazy and mad high school years. Ludicrous. That's how I would sum up high schoool in a word. Fun, mad, crazy and absolutely ludricous. Maybe six words, would be more adequate. Those days have passed now. Time to push them aside. Time to seal those thoughts and recollect them from dog-eared yearbooks and yellowing pages of timeless nostalgic memories.

I have no clue what I was thinking spewing out all that gunk above. Forgive this horrendous act of allowing myself to force you to swallow that nonsense. Please proceed to purge those words out of your memory right now or forever be scarred.

Mindless bantering in session now. Is it just me or is Jude Law just so darn cute? Watching the "Alfie" trailer on MTV Screen earlier this evening, I couldn't help noticing his enticingly cute smile and deep eyes. NO!! I'm transforming into another one of those zombie fangirls now. Get it off! Get it off!
*Proceeds to purge all images of Jude Law's charming smug of a face*
Phew. That's over with now. I'm much too lazy and pig-headed to continue telling about my non-exhaustive day. Just that I'm craving for more carbonara sauce right now. Yummers!

Give your piece of mind
|
Go back to main
Presently
Replay
Duffy
Katy Perry
Bookmarked
Online Manga - Bleach Exile
Love in the Time of Cholera by Gabriel García Márquez
Idiot Box
Bleach (Fillers)
America's Next Top Model (Cycle 11)
C.S.I. (Season 9)
CSI: Miami (Season 7)
CSI: New York (Season 5)
Dexter (Season 3)
Entourage (Season 5)
Friday Night Lights (Hiatus)
Gossip Girl (Season 2)
Greek (Season 2)
Heroes (Season 3)
House (Season 5)
Lost (Hiatus)
Monk (Season 7)
Prison Break (Season 4)
The Simpsons (Season 20)
Supernatural (Season 4)
Top Chef (Returning 12/11/08)
The Tudors (Hiatus)
Chain Bloggers
Adelynn
Alex
Alwin
Aziem
Azliza
CC
Cheesie
Connect Group
Daniel
Elaine
Hui Loo
Jeannie
Kenny Sia
Kimmy
Kit Mun
Melanie
Melissa
Nicole
Pui Yen
Scott Adams
Sharon
Veronica
Personal Pages
Bake, Cook & Food Blog
Dream Blog
deviantArt
Flickr
Photobucket
Threadless
YouTube
Daily Funnies
Go Fug Yourself
Joe Loves Crappy Movies
Multiplex Comic
Perez Hilton
Pink Is The New Blog
The Skinny Website
The Superficial
Television Without Pity
Theater Hopper
Zits Comic
Previously
effings
a hairy ordeal
popcorn and apples for dinner
warring words and worlds
tired feet, tired hands
splurge fest
going, going, gone to sleep
outing scoutings
firsts in two thousand five
the closing of an old year
HerStory
December 2004
January 2005
February 2005
March 2005
April 2005
May 2005
June 2005
July 2005
August 2005
September 2005
October 2005
November 2005
December 2005
January 2006
February 2006
March 2006
April 2006
May 2006
June 2006
July 2006
August 2006
September 2006
October 2006
November 2006
December 2006
January 2007
February 2007
March 2007
April 2007
May 2007
June 2007
July 2007
August 2007
September 2007
October 2007
November 2007
December 2007
January 2008
February 2008
March 2008
April 2008
May 2008
June 2008
July 2008
August 2008
September 2008
Facebook Me
Virtual Album
Credits Due
Brushes from Surfstation
Photo from Free Foto
Photobucket



Resources
Greymatter
Movable Type

[miz graphics is not affiliated with the resources listed.]
Stalking Tools
Subscribe to
Posts [Atom]
>Online Casino
currently stalking