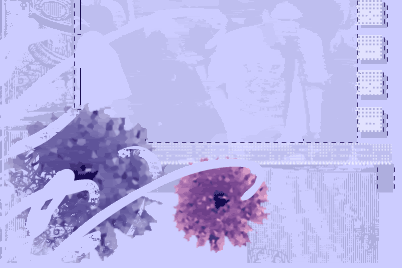 Saturday, December 18, 2004 |
14:39
The brain blast didn't come this morning as I'd've hoped for. I woke up just staring into the ceiling above me littered with the specks of colourful and oddly patterned stick-on stars and assortments with not a blip on what I actually planned on doing for the next 3 or 4 years of my life. It was a depressing morning this was. It's almost time for me to make up my muddled up mind and move on to the exciting phase of my life.
University life.
It sounded exciting to me when I was in secondary school as a pre-teen and prepubescent teenager later on. But now that I'm here, I don't get that feeling anymore. It's just dissipated into thin air. Now that's plain self-pity.
Anyway, I think after some long and hard thinking and pondering while watching Saturday morning cartoons and downing a large mug of coffee, I've pretty much made up my mind already. It's either a shrewd and cunning life in the dog-eat-dog world of business management or marketing and communications or the shady underground world of legal practice and litigation where everything is not as it seems.
Whatever it is, I'll just have to face up to it when the time finally arrives. This is almost as tough as making a choice between spaghetti carbonara and spaghetti bolognaise. They both seem the same and yet not the same.



Please ignore my lame attempt to sound utterly philosophical. The coffee must be diluting my brain to the size of a tissue pulp while the images of Dexter and DeeDee fighting are slowly siphoning away what's left of my consciousness.



Go visit Lemony Snicket's official book website if you're interested in the upcoming weirded out movie or just curious about what the books are about. Bye for now.

Give your piece of mind
|
Go back to main
Presently
Replay
Duffy
Katy Perry
Bookmarked
Online Manga - Bleach Exile
Love in the Time of Cholera by Gabriel García Márquez
Idiot Box
Bleach (Fillers)
America's Next Top Model (Cycle 11)
C.S.I. (Season 9)
CSI: Miami (Season 7)
CSI: New York (Season 5)
Dexter (Season 3)
Entourage (Season 5)
Friday Night Lights (Hiatus)
Gossip Girl (Season 2)
Greek (Season 2)
Heroes (Season 3)
House (Season 5)
Lost (Hiatus)
Monk (Season 7)
Prison Break (Season 4)
The Simpsons (Season 20)
Supernatural (Season 4)
Top Chef (Returning 12/11/08)
The Tudors (Hiatus)
Chain Bloggers
Adelynn
Alex
Alwin
Aziem
Azliza
CC
Cheesie
Connect Group
Daniel
Elaine
Hui Loo
Jeannie
Kenny Sia
Kimmy
Kit Mun
Melanie
Melissa
Nicole
Pui Yen
Scott Adams
Sharon
Veronica
Personal Pages
Bake, Cook & Food Blog
Dream Blog
deviantArt
Flickr
Photobucket
Threadless
YouTube
Daily Funnies
Go Fug Yourself
Joe Loves Crappy Movies
Multiplex Comic
Perez Hilton
Pink Is The New Blog
The Skinny Website
The Superficial
Television Without Pity
Theater Hopper
Zits Comic
Previously
life as it was
sam results
my preciousss
chobits [part 2]
fahrenheit 451 review
chobits
jackson browne
shopaholics unite
housework
teevee and moovies
HerStory
December 2004
January 2005
February 2005
March 2005
April 2005
May 2005
June 2005
July 2005
August 2005
September 2005
October 2005
November 2005
December 2005
January 2006
February 2006
March 2006
April 2006
May 2006
June 2006
July 2006
August 2006
September 2006
October 2006
November 2006
December 2006
January 2007
February 2007
March 2007
April 2007
May 2007
June 2007
July 2007
August 2007
September 2007
October 2007
November 2007
December 2007
January 2008
February 2008
March 2008
April 2008
May 2008
June 2008
July 2008
August 2008
September 2008
Facebook Me
Virtual Album
Credits Due
Brushes from Surfstation
Photo from Free Foto
Photobucket



Resources
Greymatter
Movable Type

[miz graphics is not affiliated with the resources listed.]
Stalking Tools
Subscribe to
Posts [Atom]
>Online Casino
currently stalking