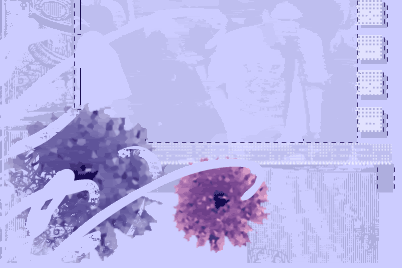 Thursday, April 07, 2005 |
15:13
My brain feels slightly rejuvenated and caffeinated now. I'm using the free wifi service at the Coffee Bean & Tea Leaf at SS2 now since the Streamyx in my house is still down. Sipping low-guilt mocha latte while snuggling in a comfy and squashy couch is just perfect. The low-guilt thing is supposed to have no sugar added but it still tasted sweet to me. Maybe it's the mocha that's making it sweet. Hmm.
It's going to be another two days or more till I get to surf as freely as I used to. For now, it's pretty limited and I get quite cranky when I don't get to utilise the internet as often as I'd like to.

The highlight of my week was an activity I thought I'd never let myself succumb to. It was my college mate, Melissa's birthday on Monday and we were supposed to go to Redbox that afternoon after our lecture. However, the date was postponed to Tuesday, not that I mind that much. It was the fact that the activity that afternoon was karaoke. Yep. You read right. Karaoke. The last thing I'd expect myself to do. Nevertheless, I let myself be taken away in the excitement and intrigue of this singing activity that has supposedly enraptured Japan and now Malaysia.

I think it was the fact that I'd never done anything quite like this or as crazy as this before that ultimately allowed myself be taken away by my friends to indulge in such an event. I hate to say it but I think the bathroom-singer in me came out that afternoon as the four of us; Melissa, Huai Yi, Justin and I, sang our hearts out and danced quite a bit to songs ranging from Elton John, Phantom of the Opera, Britney Spears, Disney songs, and diva-like songs like Mariah Carey and Barbara Streisand. We were there from 3 pm to 6 pm and by the end of the belting-our-hearts-out session, my throat was sore and I could barely scream if I wanted to. I actually enjoyed screaming my lungs out to Linkin Park's "In the End". It's a great stress buster, it is. But in the end, I quite enjoyed it and am quite glad that I got to experience this karaoke-ing session for once. Not too sure if I'm up for another round but we'll see about it in the future.

Sigh.

What was I thinking about agreeing to go karaoke-ing?

The nicest shot of the day. For me that is.

I think my parking meter is running out so I have to go now. Bye and don't be too harsh on me about the pics.

Edit:
It seems that the Streamyx in the house is fixed and I can go online as I like now. Woot!

I know I had some rant ideas in this head of mine but it doesn't seem to be flowing as well as I'd like it to flow. I just made myself an asparagus topped with parmesan cheese toastie and dijonnaise sauce and it tasted yummy. The veggie craving is still going strong and I don't expect it to stop anytime soon. I seem to be making and eating lots of sandwich toasties these days. My fave filling are still PB&J and tuna with cheese. Melted cheese can be both a delish and a damned thing. Delish for being just oh-so-gooey and soft but damned for being so hot that it burns your tongue and lips. The latter happened to me twice already. But I still love melted cheese all the same.

I may return tonight for a long-fulfilled rant post. Now I feel like drinking Campbell's instant mushroom cheese soup.

Give your piece of mind
|
Go back to main
Presently
Replay
Duffy
Katy Perry
Bookmarked
Online Manga - Bleach Exile
Love in the Time of Cholera by Gabriel García Márquez
Idiot Box
Bleach (Fillers)
America's Next Top Model (Cycle 11)
C.S.I. (Season 9)
CSI: Miami (Season 7)
CSI: New York (Season 5)
Dexter (Season 3)
Entourage (Season 5)
Friday Night Lights (Hiatus)
Gossip Girl (Season 2)
Greek (Season 2)
Heroes (Season 3)
House (Season 5)
Lost (Hiatus)
Monk (Season 7)
Prison Break (Season 4)
The Simpsons (Season 20)
Supernatural (Season 4)
Top Chef (Returning 12/11/08)
The Tudors (Hiatus)
Chain Bloggers
Adelynn
Alex
Alwin
Aziem
Azliza
CC
Cheesie
Connect Group
Daniel
Elaine
Hui Loo
Jeannie
Kenny Sia
Kimmy
Kit Mun
Melanie
Melissa
Nicole
Pui Yen
Scott Adams
Sharon
Veronica
Personal Pages
Bake, Cook & Food Blog
Dream Blog
deviantArt
Flickr
Photobucket
Threadless
YouTube
Daily Funnies
Go Fug Yourself
Joe Loves Crappy Movies
Multiplex Comic
Perez Hilton
Pink Is The New Blog
The Skinny Website
The Superficial
Television Without Pity
Theater Hopper
Zits Comic
Previously
queer cider
killed my cat
yes!
hiatus status
loathings
it's all about me
passing
nerd vision
to cap it off
shorty
HerStory
December 2004
January 2005
February 2005
March 2005
April 2005
May 2005
June 2005
July 2005
August 2005
September 2005
October 2005
November 2005
December 2005
January 2006
February 2006
March 2006
April 2006
May 2006
June 2006
July 2006
August 2006
September 2006
October 2006
November 2006
December 2006
January 2007
February 2007
March 2007
April 2007
May 2007
June 2007
July 2007
August 2007
September 2007
October 2007
November 2007
December 2007
January 2008
February 2008
March 2008
April 2008
May 2008
June 2008
July 2008
August 2008
September 2008
Facebook Me
Virtual Album
Credits Due
Brushes from Surfstation
Photo from Free Foto
Photobucket



Resources
Greymatter
Movable Type

[miz graphics is not affiliated with the resources listed.]
Stalking Tools
Subscribe to
Posts [Atom]
>Online Casino
currently stalking