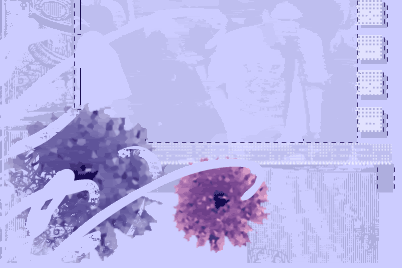 Monday, August 22, 2005 |
22:40
One of my main pet peeves is, well, actually I have a lot of pet peeves but I'm going to talk about this particular one that got me quite riled up today.

Silly names bestowed upon unfortunate children.

It sounds slightly over the top but I believe a name should be something sacred. Something very personal that no one should defile or make vile of. But it gets pretty difficult not to tempt that dark side of anyone to not make fun or faint and passing comments about a funny name.

Names like Robin, Clark, Lillian, Will, Sharon, Nicole, Bruce, Jasmine, Aaron, and even Zach or Paris are all fine and pretty normal names. But throw in Apple, Peach, Romeo, Espn, Daisy Boo-Boo, and god knows what else these crazed parents have conjured up. Soon, there's going to be Dhl, London, Gilly, Moo-Moo, oh and heaven forbid, Melon, for a girl. Romeo was fine during Shakespeare's time, and so was Leonardo and Antoinette, but no one really names any children those names now. Except for maybe Leo and Ann.

I mean, I can understand if you don't want your child growing up with some plain Jane name or have your kid being like any Tom, Dick or Harry. Nonetheless, naming your child some out of this world name isn't going to help him anymore from being tormented and traumatised by his younger peers with less weird names. Even kids with normal names have suffered some less than pleasant name-calling before at least once in their lifetime so why burden them some more with names that could easily attach to them like a parasite and suck the joy of childhood.

So, where is the defining line between a normal and less than ordinary name to be drawn? To be honest, I don't really know. I feel that it goes with the times. Names that could be so odd now could be just as normal as Donald in fifty years time. It takes time for them to be embraced like a change in something as simple as a car or internet. My mom told me she never heard of my name before until my dad gave it to me. And I still have people spelling my name with a G and not J. It's not that Anderson, damn it!

I have always had a particular fondness for the name, Aki, for some reason. I know it's a Japanese name and that it is unisex. Maybe I should move to Japan and have a kid there one day so that he or she wouldn't feel so out of place. Then whenever she or he goes anywhere outside of Japan, they can always fall back on that they're Japanese and so you can't nitpick about it.

Oh, and Armand as well. I just love uttering it. Ar(roll the r)-mand. And just some other names I like as well which mostly would be unheard of in daily life:

Arwen - Fine, so I like her name. That does not make me a dork.

Rinoa - It's unlike anything you've heard but it feels strangely familiar to me.

Damien or Daemon - Anyone who's read BJT would understand.
Lucivar - Refer above.

Winter - Because I like the cold. But I draw the line at the other seasons.

Oh, my kid is so going to have such a tough time if I ever give them any one of these names. I seem to have an affinity and bias towards A names.

And doesn't anyone realise it but whenever you have a slightly odder name compared to others, they just decide that you're too high and mighty for them and immediately dislike you based on that assed assumption itself. That's bloody discrimination on however grounds you base that on. I try not to tease people about their names unless they're very comfortable about it and they're friends I've known for quite a while. Other than that, I refrain from doing all that childish acts of nicknaming a person and publicly humiliating them.

I think I'm about done now.

The meaning of my first name from two websites.
Give your piece of mind
|
Go back to main
Presently
Replay
Duffy
Katy Perry
Bookmarked
Online Manga - Bleach Exile
Love in the Time of Cholera by Gabriel García Márquez
Idiot Box
Bleach (Fillers)
America's Next Top Model (Cycle 11)
C.S.I. (Season 9)
CSI: Miami (Season 7)
CSI: New York (Season 5)
Dexter (Season 3)
Entourage (Season 5)
Friday Night Lights (Hiatus)
Gossip Girl (Season 2)
Greek (Season 2)
Heroes (Season 3)
House (Season 5)
Lost (Hiatus)
Monk (Season 7)
Prison Break (Season 4)
The Simpsons (Season 20)
Supernatural (Season 4)
Top Chef (Returning 12/11/08)
The Tudors (Hiatus)
Chain Bloggers
Adelynn
Alex
Alwin
Aziem
Azliza
CC
Cheesie
Connect Group
Daniel
Elaine
Hui Loo
Jeannie
Kenny Sia
Kimmy
Kit Mun
Melanie
Melissa
Nicole
Pui Yen
Scott Adams
Sharon
Veronica
Personal Pages
Bake, Cook & Food Blog
Dream Blog
deviantArt
Flickr
Photobucket
Threadless
YouTube
Daily Funnies
Go Fug Yourself
Joe Loves Crappy Movies
Multiplex Comic
Perez Hilton
Pink Is The New Blog
The Skinny Website
The Superficial
Television Without Pity
Theater Hopper
Zits Comic
Previously
models and shells
vampyre
once upon a night
high end tech
tag, you're it
yep
Bye Laine.
living in techni-colour
mini mates
kids
HerStory
December 2004
January 2005
February 2005
March 2005
April 2005
May 2005
June 2005
July 2005
August 2005
September 2005
October 2005
November 2005
December 2005
January 2006
February 2006
March 2006
April 2006
May 2006
June 2006
July 2006
August 2006
September 2006
October 2006
November 2006
December 2006
January 2007
February 2007
March 2007
April 2007
May 2007
June 2007
July 2007
August 2007
September 2007
October 2007
November 2007
December 2007
January 2008
February 2008
March 2008
April 2008
May 2008
June 2008
July 2008
August 2008
September 2008
Facebook Me
Virtual Album
Credits Due
Brushes from Surfstation
Photo from Free Foto
Photobucket



Resources
Greymatter
Movable Type

[miz graphics is not affiliated with the resources listed.]
Stalking Tools
Subscribe to
Posts [Atom]
>Online Casino
currently stalking