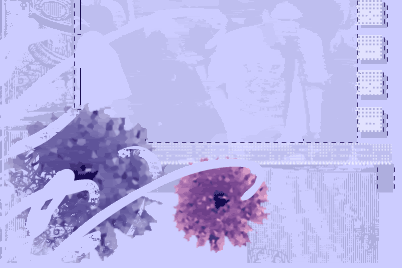 Wednesday, March 08, 2006 |
22:24
Television is beginning to be something of a foreign entity to me now. I don't think I could even begin to tell you who won the Oscars the other night or who wore what and what's happening in the latest season of Lost or House. It's like no one even bothers with TV here where back home, everything revolves around the idiot box.

I kind of love it but hate it as well. Will get back on that to reconfirm feelings about lack of TV watching since I arrived here.

There're so many things I want to say yet I can't recall most of them. The little bits of information are probably lodged in the back of my head where I just have to dig them up someday and put them into comprehensible sentences known to humankind.
So far, I've been singing in the IH choir where we're going to be performing the Dutch national anthem titled 'Wilhelmus van Nassouw
e' on National Night which is a week from tomorrow and I have no idea whatsoever as to how we'll sound like come Thursday night. Went to my first house warming cum drinkin
g party and discovered more long lost high school seniors on the way. Begun reading up on lecture notes, long and droning text books, and half-heartedly finishing up tutes. The laundry basket is piling up with dirt-sodden clothes while the room's dark corners are collecting dust. Attended the first official High Table dinner last Thursday night where I donned my first academic gown thing and actually sat down to a proper sit-down dinner where we were nicely served to. So, yes, to answer the all holy question of whether I'm doing fine; it is an affirmative 'Yes'.

The homesickness feeling is starting to sink in now. It's not like I'm thoroughly missing home but just the familiarity of home. Trying to find your place here and where you actually fit in is a challenge but a cool and exciting one at that. I can feel my stomach expanding with every passing morning I wake up to but I'm not one who will go join a gym just to loose a few pounds but have fifty strangers looking at me attempting the weights and thigh-firming machine.

Thick and newly purchased and falsified "new" edition textbooks are calling out to me to peruse through them for the night. Heard a juicy gossip back at the house warming party where a Fresher got laid with an O-weeker behind a garbage dump on one of the nights during O-week and there was some alcohol involved.

Cool. Yeah.

Give your piece of mind
|
Go back to main
Presently
Replay
Duffy
Katy Perry
Bookmarked
Online Manga - Bleach Exile
Love in the Time of Cholera by Gabriel García Márquez
Idiot Box
Bleach (Fillers)
America's Next Top Model (Cycle 11)
C.S.I. (Season 9)
CSI: Miami (Season 7)
CSI: New York (Season 5)
Dexter (Season 3)
Entourage (Season 5)
Friday Night Lights (Hiatus)
Gossip Girl (Season 2)
Greek (Season 2)
Heroes (Season 3)
House (Season 5)
Lost (Hiatus)
Monk (Season 7)
Prison Break (Season 4)
The Simpsons (Season 20)
Supernatural (Season 4)
Top Chef (Returning 12/11/08)
The Tudors (Hiatus)
Chain Bloggers
Adelynn
Alex
Alwin
Aziem
Azliza
CC
Cheesie
Connect Group
Daniel
Elaine
Hui Loo
Jeannie
Kenny Sia
Kimmy
Kit Mun
Melanie
Melissa
Nicole
Pui Yen
Scott Adams
Sharon
Veronica
Personal Pages
Bake, Cook & Food Blog
Dream Blog
deviantArt
Flickr
Photobucket
Threadless
YouTube
Daily Funnies
Go Fug Yourself
Joe Loves Crappy Movies
Multiplex Comic
Perez Hilton
Pink Is The New Blog
The Skinny Website
The Superficial
Television Without Pity
Theater Hopper
Zits Comic
Previously
foreigner in a native land
walking a mile
y'alright mate
kleptomatic memorist
pitstops in the soundtrack to my life
my sitcom life
allusions to a dream
bereavement of a different kind
quintessential pop culture cliches
epitomes of an epiphany
HerStory
December 2004
January 2005
February 2005
March 2005
April 2005
May 2005
June 2005
July 2005
August 2005
September 2005
October 2005
November 2005
December 2005
January 2006
February 2006
March 2006
April 2006
May 2006
June 2006
July 2006
August 2006
September 2006
October 2006
November 2006
December 2006
January 2007
February 2007
March 2007
April 2007
May 2007
June 2007
July 2007
August 2007
September 2007
October 2007
November 2007
December 2007
January 2008
February 2008
March 2008
April 2008
May 2008
June 2008
July 2008
August 2008
September 2008
Facebook Me
Virtual Album
Credits Due
Brushes from Surfstation
Photo from Free Foto
Photobucket



Resources
Greymatter
Movable Type

[miz graphics is not affiliated with the resources listed.]
Stalking Tools
Subscribe to
Posts [Atom]
>Online Casino
currently stalking