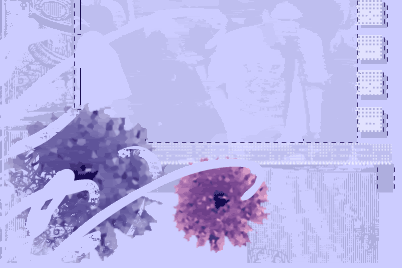 Monday, July 28, 2008 |
11:26
I would assume that most people would have gone out and watch this little movie called 'The Dark Knight' by now already. Like so many others, there would be millions of blog posts out there discussing the movie, its thought provoking struggles, the actors' performances, and the direction of the film. I might or might not talk about them here. There will be spoilers throughout so take heed. Or not.
One of my favourite scenes in the whole movie was actually the "disappearing pencil trick" scene that the Joker did in the beginning of the movie. I almost let out a tiny shriek but managed to keep it in for the sake of the packed theater. It was definitely one of those moments where you don't know whether to laugh or cry or scream, so you nervously snicker and smile but think at the back of your head that that was just so disturbing you actually laughed. From that moment on, you knew that TDK was not going to be just another Batman movie. It's not even just another superhero film. I can sing all the praises in the world for this movie but I think the rest of the world has already done that. It goes beyond of what you would expect from a superhero movie and creates another class of it that enters the epic and classic and reinvents our usual perception of the loud, blasse, empty, and air popped popcorn filled categories of superhero films. I definitely want to watch it again in an IMAX theater to savour the whole experience again.
I loved almost every moment in the movie. Except for those with the Rachel character in them. I actually found out that she was going to die before I watched the movie so I didn't really care and I still don't. She was a waste of script and film eating into the other main characters' screen time. I never knew what to expect from every scene to the next which kept me excited, intrigued, and riveted throughout most of the time. I say most of the time, because at two and a half hours, I think it might have been a little too drawn out and could have cut down a bit more of the melodrama played out specifically by the Rachel person. I may be biased but I really did not enjoy those Rachel moments at all. All I was there for was Christian Bale, Heath Ledger and Aaron Eckhart, whom were all awesome in their own way.
Christian looked hot as usual, both in and out of the Bat suit and subtly brilliant, Heath owned the Joker and became the Joker that that was not even Heath anymore but the Joker, and Aaron was wonderful in orchestrating the degeneration of Dent to Two Face seamlessly. Gary Oldman also deserves praise for playing a great character so well. He is Jim Gordon and I can't see anyone else be Gordon anymore in possible future Batman movies. It was quite creepy to watch Heath Ledger's last performance on screen with him being not in this world anymore and I can definitely understand why so many have loved him and really Heath made TDK. Heath made every scene he was in his, and delivered on such promise that it's a crying shame that we cannot see him anymore except on screen.


The story was told really well that it was not bogged down by the craziness of the Joker's antics or the insane goings-on with the Batman trying to keep the city together while it's tearing itself apart with crime. The action sequences were really quite awesome and amazingly well executed. The Nolan team totally reinvented the Batman movies and created two movies worthy of being the equivalent of what the comics and animated shows have portrayed Batman to be so far. Dark, moody, dangerous, and simply stunning all the way. I would love to watch a third movie be realized but the question of whether the Joker will return is so up in the air, it's scary. The ending left open a good storyline to take place next so that would be very interesting as to who the villain would be to terrorise Batman next. There's really no one that could take Ledger's performance and improve anymore on that. It's totally unfathomable to me. But that's just me. As long as the Nolan team are in the next Batman movie, I'm sure there's nothing to worry about.

Give your piece of mind
|
Go back to main
Presently
Replay
Duffy
Katy Perry
Bookmarked
Online Manga - Bleach Exile
Love in the Time of Cholera by Gabriel García Márquez
Idiot Box
Bleach (Fillers)
America's Next Top Model (Cycle 11)
C.S.I. (Season 9)
CSI: Miami (Season 7)
CSI: New York (Season 5)
Dexter (Season 3)
Entourage (Season 5)
Friday Night Lights (Hiatus)
Gossip Girl (Season 2)
Greek (Season 2)
Heroes (Season 3)
House (Season 5)
Lost (Hiatus)
Monk (Season 7)
Prison Break (Season 4)
The Simpsons (Season 20)
Supernatural (Season 4)
Top Chef (Returning 12/11/08)
The Tudors (Hiatus)
Chain Bloggers
Adelynn
Alex
Alwin
Aziem
Azliza
CC
Cheesie
Connect Group
Daniel
Elaine
Hui Loo
Jeannie
Kenny Sia
Kimmy
Kit Mun
Melanie
Melissa
Nicole
Pui Yen
Scott Adams
Sharon
Veronica
Personal Pages
Bake, Cook & Food Blog
Dream Blog
deviantArt
Flickr
Photobucket
Threadless
YouTube
Daily Funnies
Go Fug Yourself
Joe Loves Crappy Movies
Multiplex Comic
Perez Hilton
Pink Is The New Blog
The Skinny Website
The Superficial
Television Without Pity
Theater Hopper
Zits Comic
Previously
feet first
the films you want to watch
pulling teeth
afternoon delight
hitch-hiking
marooned on an island
caring is creepy
quote me not
rinsed to repeat
as beginnings come
HerStory
December 2004
January 2005
February 2005
March 2005
April 2005
May 2005
June 2005
July 2005
August 2005
September 2005
October 2005
November 2005
December 2005
January 2006
February 2006
March 2006
April 2006
May 2006
June 2006
July 2006
August 2006
September 2006
October 2006
November 2006
December 2006
January 2007
February 2007
March 2007
April 2007
May 2007
June 2007
July 2007
August 2007
September 2007
October 2007
November 2007
December 2007
January 2008
February 2008
March 2008
April 2008
May 2008
June 2008
July 2008
August 2008
September 2008
Facebook Me
Virtual Album
Credits Due
Brushes from Surfstation
Photo from Free Foto
Photobucket



Resources
Greymatter
Movable Type

[miz graphics is not affiliated with the resources listed.]
Stalking Tools
Subscribe to
Posts [Atom]
>Online Casino
currently stalking