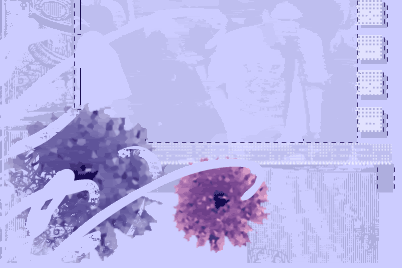 Wednesday, June 01, 2005 |
21:54
Expletives and foul language ahead. Children and elderly like people are advised not to proceed reading this entry further than this. Don't say I didn't warn you.

First, I'd like to start off with some not-so-mild ranting and off-the-screen screaming matches with my notebook's screen. Went to college today hoping for just another uneventful and unfulfilling day considering what there is to do there other than listen to lecturers who hope that you listen to them at least half the time during the entire two hours. Settled some fee payment stuff. And discovered that I actually

failed

Marketing Principles. Yes. Failed. I have never failed anything in my life. Not even my driving test. Not nothing. Ever. Till today.

That is just the absolute fucked up result ever. I don't fail. Sorry for being all high and mighty but I just don't fail. I couldn't accept it. Considering I got a High Distinction for Accounting 1 and a Distinction for Microeconomics as tabulated in the final results release, a Fail is unacceptable! Even for Marketing Principles. It's fucking not acceptable at all. So, yes, after I breathed in very deeply for a few minutes and relaxed for a moment to take it all in, I decided to appeal to find out what happened. There has to be a stupid mistake made somewhere in the bloody computer system where some clerk probably got my results mixed up with another student's. I know I probably would not have done that well in my final exam but I think I'd deserve a Credit at the very least. I think as I recall I got a 6/10 for my first MKT assignment and a 32 or 33/40 for the second one. Making that maybe at the least 38/50 which constitutes for 50% of the total weightage of the subject. That means I could not possibly have gotten a meagre 11 out of 50 for my finals now could I? Even the most blur person couldn't have got that! Fuck again. I should get at least 30/50 for my finals which would make the final score a 62/100 at the least which is a Credit to my knowledge.

So, now I've got to apparently write a letter proposing that I deserve a better grade and pay RM100 on top of that. But if the grade changes I'll be refunded the money since it's their fault in the first place that I had to go through all the trouble to get my grade reviewed and changed. Wow, what a perfect way to start a semester, heh?

Fuck. And double hell.

I really hope and pray that the result changes to a Credit at the very least because I do not want to retake the subject again. And I sold off my text book as well anyway to another disenchanted student off to "enjoy" the world of marketing. I officially hate marketing now. I hated it before but now it's official. I think I should make a certificate for myself to officiate that.

Whew.

That's done. Right. Going to watch Episode 3 tomorrow. Finally. And I am enjoying this semester's lectures a lot more than the previous first one. Mainly because of the lecturers' ability to keep me awake during lessons. They're not as boring as the previous ones and they definitely try to get right to the point during classes as well and not drag it along for some joyride. I think that's all really.

This whole entry was to basically release some anger at a more conducive outlet rather than bash someone's head or take a pill or have a smoke or anything of that sort. Excuse me now while I go pound on my pillows and scream myself hoarse.

Give your piece of mind
|
Go back to main
Presently
Replay
Duffy
Katy Perry
Bookmarked
Online Manga - Bleach Exile
Love in the Time of Cholera by Gabriel García Márquez
Idiot Box
Bleach (Fillers)
America's Next Top Model (Cycle 11)
C.S.I. (Season 9)
CSI: Miami (Season 7)
CSI: New York (Season 5)
Dexter (Season 3)
Entourage (Season 5)
Friday Night Lights (Hiatus)
Gossip Girl (Season 2)
Greek (Season 2)
Heroes (Season 3)
House (Season 5)
Lost (Hiatus)
Monk (Season 7)
Prison Break (Season 4)
The Simpsons (Season 20)
Supernatural (Season 4)
Top Chef (Returning 12/11/08)
The Tudors (Hiatus)
Chain Bloggers
Adelynn
Alex
Alwin
Aziem
Azliza
CC
Cheesie
Connect Group
Daniel
Elaine
Hui Loo
Jeannie
Kenny Sia
Kimmy
Kit Mun
Melanie
Melissa
Nicole
Pui Yen
Scott Adams
Sharon
Veronica
Personal Pages
Bake, Cook & Food Blog
Dream Blog
deviantArt
Flickr
Photobucket
Threadless
YouTube
Daily Funnies
Go Fug Yourself
Joe Loves Crappy Movies
Multiplex Comic
Perez Hilton
Pink Is The New Blog
The Skinny Website
The Superficial
Television Without Pity
Theater Hopper
Zits Comic
Previously
in due time
bentley
feel
quirkiness is good
japanese fever
yodellings
farmy business
bordered up
zombies are all around us
music makes the world go round
HerStory
December 2004
January 2005
February 2005
March 2005
April 2005
May 2005
June 2005
July 2005
August 2005
September 2005
October 2005
November 2005
December 2005
January 2006
February 2006
March 2006
April 2006
May 2006
June 2006
July 2006
August 2006
September 2006
October 2006
November 2006
December 2006
January 2007
February 2007
March 2007
April 2007
May 2007
June 2007
July 2007
August 2007
September 2007
October 2007
November 2007
December 2007
January 2008
February 2008
March 2008
April 2008
May 2008
June 2008
July 2008
August 2008
September 2008
Facebook Me
Virtual Album
Credits Due
Brushes from Surfstation
Photo from Free Foto
Photobucket



Resources
Greymatter
Movable Type

[miz graphics is not affiliated with the resources listed.]
Stalking Tools
Subscribe to
Posts [Atom]
>Online Casino
currently stalking