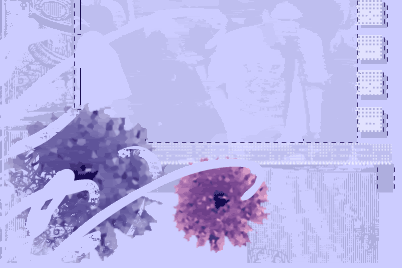 Sunday, March 12, 2006 |
13:41
Abode to the best hot chocolate, chocolate fondue, signature 'suckao', and everything that has to do with chocolate in the world.

The pictures I post up here are getting pretty much less people oriented. But I will try to get something more interesting by next week's Dutch National Night event thing. Oh, I so dearly wish I could let you guys back home watch me get embarrassed and mocked at by attempting to sing the Dutch national anthem in front of the entire dining hall audience. Whatever happened to the sardonic and passive self in me of yesteryears?

Just passing some time after indulging in a brunch this early morning cum late afternoon session. Food is starting to become a pretty monotonous affair of late except for Friday's 'nasi lemak' dinner which was pretty alright but the non-appearance of the 'sambal' disappointed a little. The curry was bland as in not spicy but tasted okay. The 'ikan bilis' and peanuts were the best part along with the coconut rice. It was pretty funny looking at the reactions of the local people when they saw the 'ikan bilis' or fried anchovies for the first time, I gather and turning them away with gross misconception and disgust to instead go for the other mediocre option of fish and chips. That night was also my first 3-hour
'self-help'
session in the dining hall and kitchen duty. It was not as bad as I had imagined it to be but I was pretty worn out after wiping tables, polishing silverware, and serving mounds of rice on famished diners' plates.

I'm beginning to feel more like a regular Melbourne-ite now with traveling up and down from Swanston Street to Bourke Street and Bridge Road now. I have still got to get my hand around navigating the tram stops and trains but it's not so foreign to me now as it was about three weeks ago. It's not even a month that I've been here and I'm already boasting about myself being all city savvy. The unpretentious confidence in my is surfacing way too fast now.

Oh what else to regale about my tales in the city? A group of friends where I was the odd one out or rather I felt like I was managed to get some pretty random stuff at an auction held in a church on Swanston yesterday night where I came out with a mini shelf like thing, two second hand books, and a tissue box cover thing. The rest of us got two table lamps, some cooking utensils and things like that and four ring bind folders. So we were pretty much walking along the streets at night around ten holding all these random stuff and people were staring at us thinking we were refugees or homeless students who couldn't pay the rent and got kicked out of our apartment. The randomness of it all was just too weird and an oddity to pass up. I should've brought my camera along.

My room is probably about 30 degrees and rising as I write this. I have about a metre high of books to cover by tonight. The air-conditioning in the library and computer lab are my friends. I want to talk to old friends and not do my tutes. My tutors and lecturers are weird people and one of them creeps me out a little as I don't really know what to make of him. But he's nice still. Really.

Tomorrow's agenda include maybe catching the Moomba Parade along Swanston Street in the city at eleven in the morning before my lectures at one in the aft, enquiring about the invoicing of my year-long stay here in IH, and seeking to swap my self-help times with someone in the weekend as the weekend dining supervisor guy is nicer and more approachable than the regular lady one during the week as he was the one who let me off half an hour earlier on Friday. She scares me. And so does everyone else new to this who've worked under her this week. Did I mention that he's also an RMIT student studying aerospace engineering and management at the same time during the weekdays? Cool.

Give your piece of mind
|
Go back to main
Presently
Replay
Duffy
Katy Perry
Bookmarked
Online Manga - Bleach Exile
Love in the Time of Cholera by Gabriel García Márquez
Idiot Box
Bleach (Fillers)
America's Next Top Model (Cycle 11)
C.S.I. (Season 9)
CSI: Miami (Season 7)
CSI: New York (Season 5)
Dexter (Season 3)
Entourage (Season 5)
Friday Night Lights (Hiatus)
Gossip Girl (Season 2)
Greek (Season 2)
Heroes (Season 3)
House (Season 5)
Lost (Hiatus)
Monk (Season 7)
Prison Break (Season 4)
The Simpsons (Season 20)
Supernatural (Season 4)
Top Chef (Returning 12/11/08)
The Tudors (Hiatus)
Chain Bloggers
Adelynn
Alex
Alwin
Aziem
Azliza
CC
Cheesie
Connect Group
Daniel
Elaine
Hui Loo
Jeannie
Kenny Sia
Kimmy
Kit Mun
Melanie
Melissa
Nicole
Pui Yen
Scott Adams
Sharon
Veronica
Personal Pages
Bake, Cook & Food Blog
Dream Blog
deviantArt
Flickr
Photobucket
Threadless
YouTube
Daily Funnies
Go Fug Yourself
Joe Loves Crappy Movies
Multiplex Comic
Perez Hilton
Pink Is The New Blog
The Skinny Website
The Superficial
Television Without Pity
Theater Hopper
Zits Comic
Previously
pressure cooked
foreigner in a native land
walking a mile
y'alright mate
kleptomatic memorist
pitstops in the soundtrack to my life
my sitcom life
allusions to a dream
bereavement of a different kind
quintessential pop culture cliches
HerStory
December 2004
January 2005
February 2005
March 2005
April 2005
May 2005
June 2005
July 2005
August 2005
September 2005
October 2005
November 2005
December 2005
January 2006
February 2006
March 2006
April 2006
May 2006
June 2006
July 2006
August 2006
September 2006
October 2006
November 2006
December 2006
January 2007
February 2007
March 2007
April 2007
May 2007
June 2007
July 2007
August 2007
September 2007
October 2007
November 2007
December 2007
January 2008
February 2008
March 2008
April 2008
May 2008
June 2008
July 2008
August 2008
September 2008
Facebook Me
Virtual Album
Credits Due
Brushes from Surfstation
Photo from Free Foto
Photobucket



Resources
Greymatter
Movable Type

[miz graphics is not affiliated with the resources listed.]
Stalking Tools
Subscribe to
Posts [Atom]
>Online Casino
currently stalking