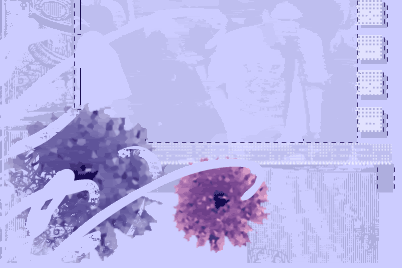 Saturday, June 11, 2005 |
00:35
I think I found myself a new toy boy to gush over. But I feel like such a paedophile for oohing and ahhing over a 15 year old. Nevertheless, when you actually see him on screen you wouldn't not think I'm crazy and deluded.

Well, I spent the entire day out today from 10 in the morning till 8 just a few hours ago. The main highlight of the day was of course the movie watching of 'Les Choristes' or 'The Choir'. Generic storyline where a teacher comes to a delinquent rundown school and with the power of music manages to tame the rowdy boys to change them into a choir of singing sensation. But I like it nonetheless. Jean-Baptiste Maunier as Pierre Morhange is a living breathing angel. Honestly, I think I could not stop staring at him throughout the movie. He's the perfect likeness of a gorgeous and beautiful Bottecelli angel with a youthful and haunting voice to match too. His most striking features have to be his almost too perfect looking sharp facial structure and deep-set eyes. His photos somehow doesn't do him justice as in the film. I have to find the DVD now. The only reason I'd see the movie again would be just to look at him. I think I'm teetering on the edge of being an obsessed temp fan. But the other kid; Perrin, Maxence as Pepinot was really cute too. And the music was good as well. What can you really expect from a choir of young boys with unbroken voices?

Am I the only person in awe with him? God, I'm weird.

I think the worst part of it all is that once Jean-Baptiste's voice breaks, he's going to be just another French teen with raging hormones and a former child star rep to go with it. I just hope he doesn't go down the same road as some other child *cough*Macaulay-Culkin*cough* star.

Yeah, this post today was basically just a platform for me to gush over the said boy. Pertaining to my real life, I've spontaneously volunteered to offer my "services" at a French Music Festival next week on June 19th, which is a Sunday, to do some so-called dubbed 'roadie' work. I have absolutely no idea what I'll exactly be doing but I hope it doesn't involve lugging around heavy sound equipments or handing out water bottles or anything of that sort. It would be nice if I could sneak into backstage and mingle with the music people. I can dream, can't I. But yes, anyone interested in a music fest, come down to Bukit Bintang, KL then. I'll be there from 12 to 6 pm.

And I have to get started on my tutorial questions and assignments too. Soon. More like tomorrow and Sunday if I want to go out the following week. Go catch a French language film by this Sunday at Mid Valley as it's the last day. More specifically, go watch 'Les Choristes' if not for the boy.

Give your piece of mind
|
Go back to main
Presently
Replay
Duffy
Katy Perry
Bookmarked
Online Manga - Bleach Exile
Love in the Time of Cholera by Gabriel García Márquez
Idiot Box
Bleach (Fillers)
America's Next Top Model (Cycle 11)
C.S.I. (Season 9)
CSI: Miami (Season 7)
CSI: New York (Season 5)
Dexter (Season 3)
Entourage (Season 5)
Friday Night Lights (Hiatus)
Gossip Girl (Season 2)
Greek (Season 2)
Heroes (Season 3)
House (Season 5)
Lost (Hiatus)
Monk (Season 7)
Prison Break (Season 4)
The Simpsons (Season 20)
Supernatural (Season 4)
Top Chef (Returning 12/11/08)
The Tudors (Hiatus)
Chain Bloggers
Adelynn
Alex
Alwin
Aziem
Azliza
CC
Cheesie
Connect Group
Daniel
Elaine
Hui Loo
Jeannie
Kenny Sia
Kimmy
Kit Mun
Melanie
Melissa
Nicole
Pui Yen
Scott Adams
Sharon
Veronica
Personal Pages
Bake, Cook & Food Blog
Dream Blog
deviantArt
Flickr
Photobucket
Threadless
YouTube
Daily Funnies
Go Fug Yourself
Joe Loves Crappy Movies
Multiplex Comic
Perez Hilton
Pink Is The New Blog
The Skinny Website
The Superficial
Television Without Pity
Theater Hopper
Zits Comic
Previously
french fries
nostalgic
mixes
warning
in due time
bentley
feel
quirkiness is good
japanese fever
yodellings
HerStory
December 2004
January 2005
February 2005
March 2005
April 2005
May 2005
June 2005
July 2005
August 2005
September 2005
October 2005
November 2005
December 2005
January 2006
February 2006
March 2006
April 2006
May 2006
June 2006
July 2006
August 2006
September 2006
October 2006
November 2006
December 2006
January 2007
February 2007
March 2007
April 2007
May 2007
June 2007
July 2007
August 2007
September 2007
October 2007
November 2007
December 2007
January 2008
February 2008
March 2008
April 2008
May 2008
June 2008
July 2008
August 2008
September 2008
Facebook Me
Virtual Album
Credits Due
Brushes from Surfstation
Photo from Free Foto
Photobucket



Resources
Greymatter
Movable Type

[miz graphics is not affiliated with the resources listed.]
Stalking Tools
Subscribe to
Posts [Atom]
>Online Casino
currently stalking