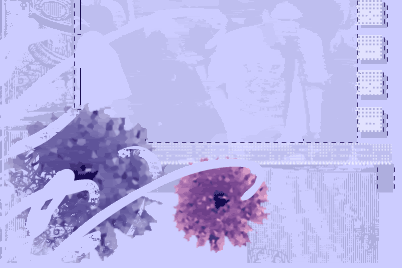 Thursday, July 14, 2005 |
21:57
Well, today was a rather fruitful day. Not very but rather. I'm feeling quite shopped out considering I got not one, not two, but three on-sale tops from MNG in less than one week. All bought on separate occasions of course. And I'm quite happy with procuring that high-tops I've been secretly desiring for some time now yesterday. It's all white with little flower and strawberry detail prints on it! I'm sounding like a total school girl now but I can't help gushing over new stuff. I'm so glad I waited for the sale or I'd be strangling myself for getting it at retail price back then instead of the discounted one now.

Visited the new GSC place at the new wing at 1Utama and it looked so cool. It was so new and spick and span and shiny. The seating was even better with more leg room, comfy cushioned seats and wider screen. I'm never going back to TGV now with GSC's presence there now.

Finally managed to watch WOW today with two college mates. One wasn't too pleased with the ending but the other one and I were quite okay with it. It's not fair too since I actually know how it's going to end but it was quite nice to watch it in that whole cinematic environment and the setting and characters being all quite different. Surprisingly, me being all "Oh, I'm not going to get scared and frightened out of my wits," actually got quite several a few shocks during the movie. It's definitely very unlike the 1950-something movie I watched a few months ago, reviewed in a previous post. This one was very different in terms of special effects, characters, mood, setting, and the aliens too. I just realised that throughout the entire movie itself, the word 'alien' never popped out once. Not once at all. There were a few scenes which I shamely admit got me gripping the edge of my seat. It wasn't all horror-type scary but more like shock-type scary.

I remembered thinking the other day too that if I hear or watch even one more interview or show or making-of of Tom Cruise, I swear I wouldn't watch it at all. Not even if it kills me. It's got to the point that I can't even bear to listen to his voice anymore. Now, when I even get any warning whatsoever of a Cruise interview or whatnot I just switch the channel to something more palatable for my stomach and me. Thankfully, he didn't ruin the show for me as much as I thought he would. Though there were two scenes which I thought was overdoing it, playing him up as some local hero of sorts. Not that he was celebrated of course but very narrowly still. I'd give the movie a 7.5 out of 10 for acting, story, and being able to actually scare me as I hate to think I scare easily.

48 hours from now, I'll be snug as a bug in my room, reading HBP vicariously and shutting myself off from civilisation until I finish it. I try not thinking about it but I can't. I'm getting giddy just thinking about the moment when the book touches my hands and breathing in that new book smell. Don't you just love the smell of new things?

Oh wow, I'm actually done. Usually I'd want to say more than what I can say but I seem quite satiated tonight. 'Lost' is on later and I've got some short stories to read and finish by Saturday afternoon. Ta for now.

Give your piece of mind
|
Go back to main
Presently
Replay
Duffy
Katy Perry
Bookmarked
Online Manga - Bleach Exile
Love in the Time of Cholera by Gabriel García Márquez
Idiot Box
Bleach (Fillers)
America's Next Top Model (Cycle 11)
C.S.I. (Season 9)
CSI: Miami (Season 7)
CSI: New York (Season 5)
Dexter (Season 3)
Entourage (Season 5)
Friday Night Lights (Hiatus)
Gossip Girl (Season 2)
Greek (Season 2)
Heroes (Season 3)
House (Season 5)
Lost (Hiatus)
Monk (Season 7)
Prison Break (Season 4)
The Simpsons (Season 20)
Supernatural (Season 4)
Top Chef (Returning 12/11/08)
The Tudors (Hiatus)
Chain Bloggers
Adelynn
Alex
Alwin
Aziem
Azliza
CC
Cheesie
Connect Group
Daniel
Elaine
Hui Loo
Jeannie
Kenny Sia
Kimmy
Kit Mun
Melanie
Melissa
Nicole
Pui Yen
Scott Adams
Sharon
Veronica
Personal Pages
Bake, Cook & Food Blog
Dream Blog
deviantArt
Flickr
Photobucket
Threadless
YouTube
Daily Funnies
Go Fug Yourself
Joe Loves Crappy Movies
Multiplex Comic
Perez Hilton
Pink Is The New Blog
The Skinny Website
The Superficial
Television Without Pity
Theater Hopper
Zits Comic
Previously
a quiz post
the good, the bad, and the lazy
zap me again
shh!
gasp!
why?
i'm you!
unduly timing
jamming together
victim of satire
HerStory
December 2004
January 2005
February 2005
March 2005
April 2005
May 2005
June 2005
July 2005
August 2005
September 2005
October 2005
November 2005
December 2005
January 2006
February 2006
March 2006
April 2006
May 2006
June 2006
July 2006
August 2006
September 2006
October 2006
November 2006
December 2006
January 2007
February 2007
March 2007
April 2007
May 2007
June 2007
July 2007
August 2007
September 2007
October 2007
November 2007
December 2007
January 2008
February 2008
March 2008
April 2008
May 2008
June 2008
July 2008
August 2008
September 2008
Facebook Me
Virtual Album
Credits Due
Brushes from Surfstation
Photo from Free Foto
Photobucket



Resources
Greymatter
Movable Type

[miz graphics is not affiliated with the resources listed.]
Stalking Tools
Subscribe to
Posts [Atom]
>Online Casino
currently stalking