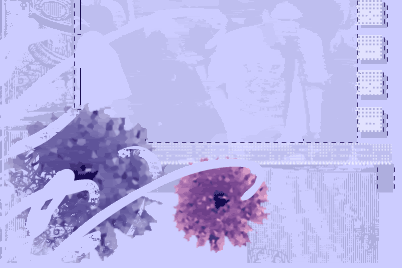 Monday, January 09, 2006 |
23:10
It's been a dull, dull weekend. Really. Long and dreadfully boring. Here's hoping to a better week and weekend.

Today's probably the most outer-bodily experience I've ever had the chance to enjoy. Not necessarily enjoyable but just being in the moment. It was a really unusual and odd and weird funny feeling. I've never been so disconnected from the world before. I mean, there were and always will be periods of my own disconnectment from the world, but today was just absolutely unplugged and so very far away from the other world. I was totally in my own little world with hardly any human contact except for the occasional waves and grunts to the brothers shuffling in and out of the house. My brain felt lighter than any other times I felt my mind begin to float away. It was intense yet lighthearted. To add to the numbness of it all, human population normally populating the roads outside my house seemed to have ceased for the moment of today. It could be due to the school holiday today explaining for the absence of everyday life moving up and down on any usual weekday.

But I like to think that it was my own temporary period of blackoutness attributing to my own unplugging from the natural world. Kind of like the Matrix, if you will allow me to compare myself to contemporary pop movies.

Deviating for a moment while on the topic of movies, watch 'Memoirs of a Geisha' if you haven't read the book, do not watch it if you've read it. Readers will probably be as dissapointed with it as I am, non-readers might just almost likely enjoy it. Go watch 'Kong' again or just save your cine-fare for afast food meal.

Today's post really serves no other purpose than to record my own little glitch in the world where I actually managed to detach my self from my body almost wholly. It was a momentarily cool and surreal experience which lasted no more than fifteen minutes. I wonder when I'll get the chance to experience that again.

My mother made me realize the other day that I'll be carrying eight newly acquired novels begging to be perused, lovingly battered, and read longingly, along with the other 50 kilos of luggage to Oz.

Breaking News: Visit link. Or just go directly to this one.

Give your piece of mind
|
Go back to main
Presently
Replay
Duffy
Katy Perry
Bookmarked
Online Manga - Bleach Exile
Love in the Time of Cholera by Gabriel García Márquez
Idiot Box
Bleach (Fillers)
America's Next Top Model (Cycle 11)
C.S.I. (Season 9)
CSI: Miami (Season 7)
CSI: New York (Season 5)
Dexter (Season 3)
Entourage (Season 5)
Friday Night Lights (Hiatus)
Gossip Girl (Season 2)
Greek (Season 2)
Heroes (Season 3)
House (Season 5)
Lost (Hiatus)
Monk (Season 7)
Prison Break (Season 4)
The Simpsons (Season 20)
Supernatural (Season 4)
Top Chef (Returning 12/11/08)
The Tudors (Hiatus)
Chain Bloggers
Adelynn
Alex
Alwin
Aziem
Azliza
CC
Cheesie
Connect Group
Daniel
Elaine
Hui Loo
Jeannie
Kenny Sia
Kimmy
Kit Mun
Melanie
Melissa
Nicole
Pui Yen
Scott Adams
Sharon
Veronica
Personal Pages
Bake, Cook & Food Blog
Dream Blog
deviantArt
Flickr
Photobucket
Threadless
YouTube
Daily Funnies
Go Fug Yourself
Joe Loves Crappy Movies
Multiplex Comic
Perez Hilton
Pink Is The New Blog
The Skinny Website
The Superficial
Television Without Pity
Theater Hopper
Zits Comic
Previously
keys to the club
hopeful resignations
zeroed within
extreme highs and lows
x'mas comes early
laments of a traveling soul
giddied up
of cookies and choices
uplifting plight
phishing around
HerStory
December 2004
January 2005
February 2005
March 2005
April 2005
May 2005
June 2005
July 2005
August 2005
September 2005
October 2005
November 2005
December 2005
January 2006
February 2006
March 2006
April 2006
May 2006
June 2006
July 2006
August 2006
September 2006
October 2006
November 2006
December 2006
January 2007
February 2007
March 2007
April 2007
May 2007
June 2007
July 2007
August 2007
September 2007
October 2007
November 2007
December 2007
January 2008
February 2008
March 2008
April 2008
May 2008
June 2008
July 2008
August 2008
September 2008
Facebook Me
Virtual Album
Credits Due
Brushes from Surfstation
Photo from Free Foto
Photobucket



Resources
Greymatter
Movable Type

[miz graphics is not affiliated with the resources listed.]
Stalking Tools
Subscribe to
Posts [Atom]
>Online Casino
currently stalking