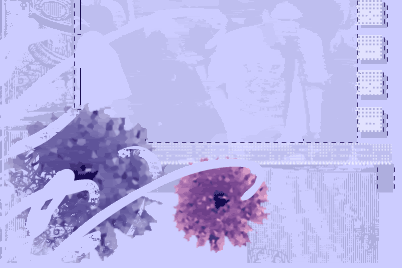 Sunday, July 02, 2006 |
14:00
Suppose now is a good time as any to return to the blogging routine after a week long break since being back home.

And what have I been up to for the whole week when I was not up and about flitting from shopping mall to flea market to visiting people; well KH2 of course. Odd isn't it. The first thing to get my whole mind and body wrapped upon is this particular PS2 game. It just ate up a whole week's worth of my precious time which could've been spent shopping, getting reacquainted with old friends, lounging round the house watching long awaited unwatched movies and television shows, and just relaxing to the fullest I can get out of this month long break before having to return for another semester worth of IH goings-on, tests, assignments, late night phone calls and IM-ing, and cramming sessions. I'm almost done with the game as you can tell since I actually have time to blog instead of spending hours just seated on the couch and trying to get past mindless minions of Heartless.

I was really supposed to begin my shopping venture today but due to a detour of having my wisdom tooth surgically removed yesterday, it's being postponed to another day. The right side of my face is pratically swollen to the point that I can hardly open my mouth without my whole jaw partially hurting as well. If I talk too fast, it even hurts as well to laugh. I'm being put on a partial liquid diet for the next few days till I get the stiches out next week which is when my results will be out too. The jitter bugs are getting to me already but I'm not going to let the nerves deter me from having a fulfilling second week of pure nothingness.

Alright so Spain got kicked out by France but there're still Portugal and the Italians to support. But I'm only approaching this with half-heartedness since the Spaniards are unfortunately out. The World Cup experience is almost over for me as of now. Ah well. That's football for you.

Relishing the precious moments I get to spend in my room now. Numerous items of mine are strewn all across the room as I have yet to fully clear them all and put them in their rightful places nor really settled into being "home" as of yet. I'm actually kind of missing the IH feeling where there're people around you all the time and that there's always something going on every hour in someone's room or in the JCR or dining hall or outside of IH walls. I'm only going to be away from IH for a month but it feels strangely longer than that. Imagine me getting all sentimental about not being in Melbourne. Weirder things have happened though. It's just a bit disconcerting to be in a place with only five other people around you when you've had about a hundred or so other people within walking distance of you for the past four months.

Most of the presents brough back have been given away already leaving a rather satisfied taste in my mouth. I felt a bit like Santa Claus then.

So far, the weather's been quite patient with me or maybe I'm the one who's being patient with the sweltering heat of day and night. I got a new camera to replace my old one. It's nice to feel slightly spoiled once in a while. Will be putting it to good use and fun when I get back to Melbourne life once more.

Anyway, time to leave you loyal and faithful readers of mine to your own lifes to be contented with now. Will be back with more news and hopefully better life stories to regale about.

Give your piece of mind
|
Go back to main
Presently
Replay
Duffy
Katy Perry
Bookmarked
Online Manga - Bleach Exile
Love in the Time of Cholera by Gabriel García Márquez
Idiot Box
Bleach (Fillers)
America's Next Top Model (Cycle 11)
C.S.I. (Season 9)
CSI: Miami (Season 7)
CSI: New York (Season 5)
Dexter (Season 3)
Entourage (Season 5)
Friday Night Lights (Hiatus)
Gossip Girl (Season 2)
Greek (Season 2)
Heroes (Season 3)
House (Season 5)
Lost (Hiatus)
Monk (Season 7)
Prison Break (Season 4)
The Simpsons (Season 20)
Supernatural (Season 4)
Top Chef (Returning 12/11/08)
The Tudors (Hiatus)
Chain Bloggers
Adelynn
Alex
Alwin
Aziem
Azliza
CC
Cheesie
Connect Group
Daniel
Elaine
Hui Loo
Jeannie
Kenny Sia
Kimmy
Kit Mun
Melanie
Melissa
Nicole
Pui Yen
Scott Adams
Sharon
Veronica
Personal Pages
Bake, Cook & Food Blog
Dream Blog
deviantArt
Flickr
Photobucket
Threadless
YouTube
Daily Funnies
Go Fug Yourself
Joe Loves Crappy Movies
Multiplex Comic
Perez Hilton
Pink Is The New Blog
The Skinny Website
The Superficial
Television Without Pity
Theater Hopper
Zits Comic
Previously
return to the familiar
personal time zones
yields in life
rolling along
yes, i'm still here
gender-fiable
atmospheric circus acts
hurrying up life
utterly crashing forwards
ozzie in the making
HerStory
December 2004
January 2005
February 2005
March 2005
April 2005
May 2005
June 2005
July 2005
August 2005
September 2005
October 2005
November 2005
December 2005
January 2006
February 2006
March 2006
April 2006
May 2006
June 2006
July 2006
August 2006
September 2006
October 2006
November 2006
December 2006
January 2007
February 2007
March 2007
April 2007
May 2007
June 2007
July 2007
August 2007
September 2007
October 2007
November 2007
December 2007
January 2008
February 2008
March 2008
April 2008
May 2008
June 2008
July 2008
August 2008
September 2008
Facebook Me
Virtual Album
Credits Due
Brushes from Surfstation
Photo from Free Foto
Photobucket



Resources
Greymatter
Movable Type

[miz graphics is not affiliated with the resources listed.]
Stalking Tools
Subscribe to
Posts [Atom]
>Online Casino
currently stalking